Laminate Flooring
Aquastop 48 hour water resistant laminate is a durable highly scratch resistant hard surface floor covering. The enhanced core and improved locking system gives you more versatility than ever before with laminate flooring. You can wet mop and steam mop this product. Very practical for families with indoor pets and active lifestyles. Every day spills or messes are no problem with its 48 hour water resistant protection. Bedrooms, living rooms, kitchens and even bathrooms! Aquastop can be installed in any room of the home!
FREE Project Estimates: Leave the Planning To Us
---
"Complete renovation of a rental apartment. We also made some drywall, framing modifications to create more space. Used all of the Kitchen Cabinets- Harbor White , Vinyl Matrix Malibu, Carrara Bianco Countertops, White Shaker Vanity - Pebble Beach Vanity Top. This is the 7th apartment renovation I've done. Worked with Rich Hill & Koryne in Dudley MA … They are the best!"
"We recently purchased a home that was built in 1952. The kitchen was original, and as you can see, quite dated. We used a local contractor for the design, but purchased the cabinets, tile flooring, trim, molding, and cabinet organization items from Surplus Warehouse in Victoria. Because we were able to save money, we also were able to complete two smaller projects at the same time: a pantry and a laundry room. Throughout our projects, we had such a great experience with Surplus Warehouse. The staff was courteous, and helpful to make our remodel experience a pleasure and help us save money. We absolutely love our new kitchen. Please accept my family's sincerest "Thank you" and appreciation for a well-run store and business."
Inspiration Guide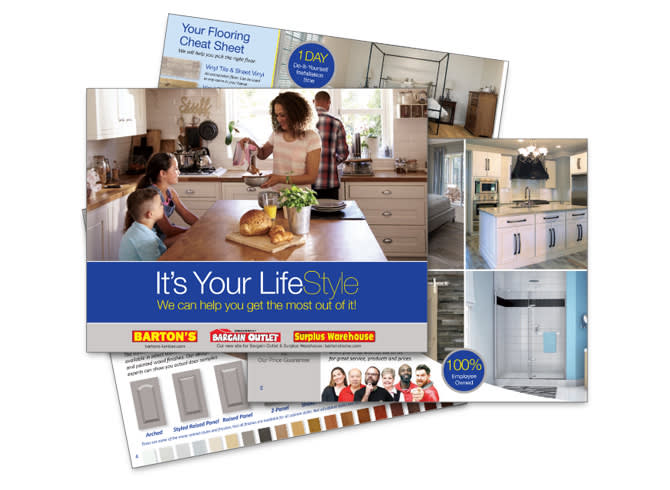 The Roadmap To Your Dream Space
Filled with project advice to help get you started, the 2019 Inspiration Guide will inspire new ideas for your space. The guide is loaded with tips, trends and helpful product details to help you make your dream space a reality.
Stay Up To Date With Our Newsletter
---
Stay informed about upcoming discounts, additional product offerings and in-store events. With our email newsletter option, we can send the most current updates directly to you via email! That way, you will never miss a sale or new arrivals you've never seen in our stores!
By submitting this form you agree to receive future emails from E. C. Barton and it's subsidiaries. We do not share your information with third parties and you will only receive occasional emails from us.